Polls released since the first presidential debate last week indicate as rapid a shift in voter preferences as we've seen all campaign. My model estimates a swing of about 1.5% in Romney's direction, or a net narrowing of about 3%. Although the polls also suggest that this movement began a few days before the debate, it's still a large effect.
What to make of it? First, and most importantly, although Romney may have cut into Obama's lead, Obama is still comfortably ahead. The most important state to win this year is arguably Ohio – and there Obama holds on to 51.7% of the major-party vote. According to my model, Obama had been outperforming the fundamentals (which point to his reelection) prior to the debate – and now he's running just slightly behind them. As a result, the model's long-term forecast continues to show an Obama victory, with 332 electoral votes.
Second, there's reason to believe that the initial estimates of Romney's post-debate surge are going to weaken as more polls are released today and tomorrow. The surveys that made it into my Sunday morning update consisted of a number of one-day samples, which tend to draw in particularly enthusiastic respondents – in this case, Republicans excited about Romney's debate performance. Moreover, the survey methodology used by these firms – in which interviews are conducted using recorded scripts, to save time and money – also show a Republican lean. And if anything, my model gives slightly greater weight to automated polls simply because they tend to have larger sample sizes.
The point isn't that these polls are "wrong" – only that this is a situation where it would be wise to wait for more information before reaching any strong conclusions. My model treats every poll equally, regardless of how it was fielded, or by whom. The reason I don't try to "correct" for potential errors in the polls isn't because I don't believe they exist – but because I don't believe those adjustments can be estimated reliably enough to make much of a difference. (Consider how wide the error bars are on Simon Jackman's house effects estimates, for example.) Instead, I assume there will eventually be enough polling in all 50 states for these errors to cancel out. Usually that is a pretty safe assumption, but I don't think it's happened yet.
I'm going to embed the current trend estimates for Virginia and Florida here in this post, so we can compare them to later estimates, and see if I'm right.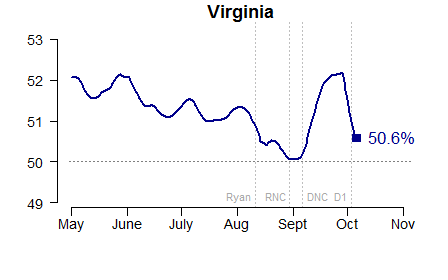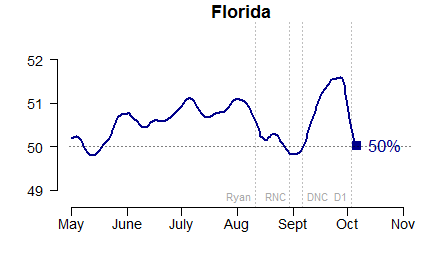 Finally, making sense of this small batch of post-debate polls highlights the value of using an informative Bayesian prior. If Romney is really experiencing a sudden swing in the polls, then we already have some idea of how quickly that could reasonably happen, based on previous trends. It's certainly possible that something about public opinion has fundamentally changed within the past week. But if that's the case, we should require extra evidence to overturn what we previously thought was going on.
Look for another site update Tuesday morning.