More than 30 state polls have been released since the end of the DNC, and they point to an unmistakable U-turn in the trend in support for Obama over Romney. It's the most consistently pro-Obama swing that we've seen at the state level all campaign, and it has been large enough to wipe out most of Obama's losses in the polls since early August. That Obama received any bounce at all from the DNC, after Romney got nothing from the RNC, also suggests that voter preferences may not be so fixed, after all.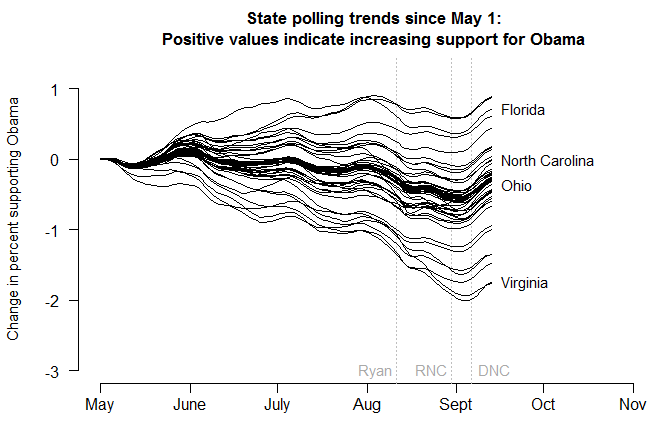 But while the momentum has shifted in Obama's favor, the bounce itself is still fairly small by historical standards. My model – based only on the state polls – suggests that the overall effect of the DNC has been about 0.5% in a typical state. The size of this swing is consistent with other trends in opinion observed so far this year. If nothing else, it has been enough to keep Obama in the lead in the closest battleground states. The question now is whether the trend has peaked, and how much of the bounce will persist through Election Day.
Curiously, the post-convention bump has appeared to be larger in the national polls than it has in the individual state polls. The national polling aggregate at TPM finds Obama up 2% from early September – corresponding to a nearly 4-point current lead. The trackers at RCP and Huffington Post indicate similar gains. Compared to past years, 2% is still not a big effect – but, if accurate, it would be much more than any other swing in voter preferences since Romney secured the Republican nomination. If there really has been a shift of 2% nationally, we should be seeing it in the state polls, too. Hopefully, with more polling data, we'll be able to resolve this discrepancy soon.